Cucumbers are the fourth most cultivated vegetable in the world and known to be one of the best foods for your body's overall health, often referred to as a superfood. Cucumbers are often sprayed with pesticides so it is important to buy organic or even better, grow them yourself.
Here are 10 Benefits of cucumbers:
1.Quick pick me-up – Cucumbers are a good source of B vitamins. Put down your sodas and coffee and eat a cucumber slice.
2. Rehydrates body and replenishes daily vitamins – Cucumbers are 95 percent water, keeping the body hydrated while helping the body eliminate toxins. Cucumbers have most of the vitamins the body needs in a single day. Don't forget to leave the skin on because the skin contains a good amount of vitamin C, about 10 percent of the daily-recommended allowance.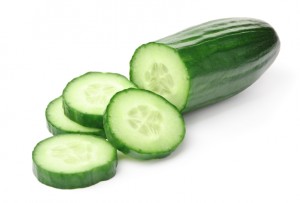 Contact us to place your order or for additional information on other produce items not list

HOUR OF OPERATION 3AM - 3PM
6636 E.26TH STREET COMMERCE, CA 90040
TEL: 323.796.0127 FAX: 323.796.0131