Buy fresh Produce Inc. has fresh Yellow Bell Peppers. BFP deals directly with the Growers as to provide Field Freshness every day. Our Growers are known in the industry for the best produce available with the most consistency year  around. BFP specializes in produce items and can deliver your product to your dock anywhere West of the Rockies. Contact BFP today for contract pricing and the best in quality and service.
WEIGHT LOSS
Yellow, thick-walled, sweet fruits add appetizing color and vitamins to fresh salads, and are superb for stuffing as well as fresh use. Plants can get quite large, so be prepared to support them, especially when carrying lots of fruit. Space transplants 18 inches apart in rows 30 inches apart.
§  Fruit size: 4 to 5 inches
§  Matures: 70 to 80 days
§  Plant Size: 24 to 36 inches tall, 18 to 24 inches wide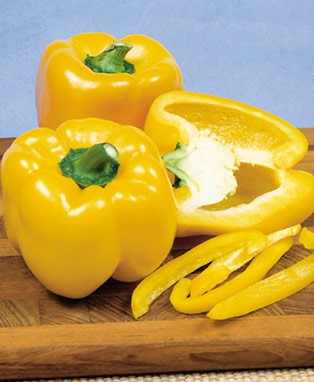 Yellow bells are tasty and add variety to any dish calling for bell pepper. 
Contact us to place your order or for additional information on other produce items not list

HOUR OF OPERATION 3AM - 3PM
6636 E.26TH STREET COMMERCE, CA 90040
TEL: 323.796.0127 FAX: 323.796.0131